About this site
Tewkesbury Abbey is a former Benedictine monastery now serving as a parish church. The building is famous for its wide range of intricately decorated lierne vaults, largely constructed between the early fourteenth and early fifteenth centuries. We visited Tewkesbury in July 2017, recording the vaults using a combination of laser scanning, photogrammetry and total station. This research was funded by the David Foster Wicks Endowment Fund at the Liverpool School of Architecture.
Plan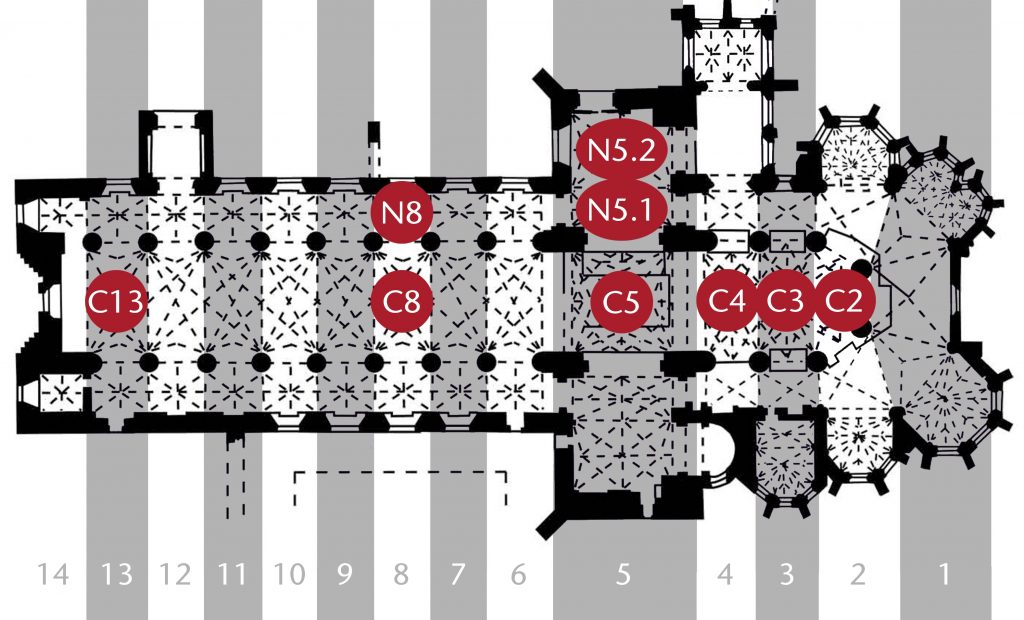 Website
Archaeology Data Service

Plans, orthophotos and 3D models of Tewkesbury Abbey can be downloaded here.
Sketchfab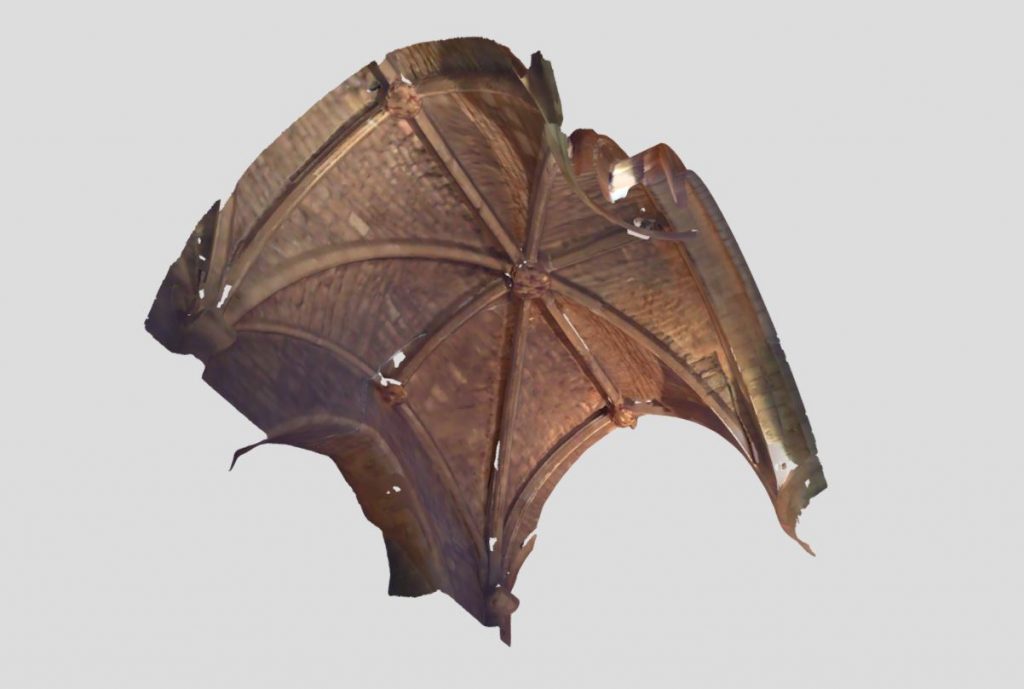 Interactive 3D mesh models of selected vault bays at Tewkesbury Abbey can be viewed here.
Tewkesbury Abbey
Choir
C2-C4 (c.1322-40)
More information

Probably constructed c. 1322-40, the choir vaults at Tewkesbury are an intricate design formed by a crisscrossing pattern of liernes. The webbing of each vault is divided into a set of cusped compartments, with blind tracery radiating around the central boss. The polygonal east end is similar to that found at Pershore Abbey, but the form of the vaulting is far more complex.
North Transept
N5.1-N5.2 (c.1360)
More information

The transept vaults at Tewkesbury have been dated c. 1360 on stylistic grounds, specifically through the similarities between their sculpted bosses and those in southeast transept at Hereford Cathedral (c. 1364-71). They take the form of a basic net vault covering bays of variable length and fixed width, connected by three ostensibly parallel ridge ribs.
Crossing
C5 (c.1350-59)
More information

The crossing at Tewkesbury is covered by a complex vault of crisscrossing liernes. Whilst it has traditionally been dated after 1375 based on heraldic evidence, more recent work has suggested that a date of c. 1350-59 would be more appropriate.
Nave
C6-C13 (c. 1335-49)
More information

The nave at Tewkesbury is covered by a net vault of crossing tiercerons and liernes. Probably dating c. 1335-49, it was built on the earlier eleventh-century fabric of the nave below. There is some variation in the vault's design at the west end, where a larger bay with canted sides results in a distorted plan.
Nave Aisles
N6-N14; S5-S14 (c. 1335-49)
More information

Dating c. 1335-49, the nave aisle vaults at Tewkesbury are one of the most understudied aspects of the church. Whilst the design of the vaults may appear simple when viewed in plan, their three-dimensional form is surprisingly complex, especially when considering the stonework of the webs. The webbing was constructed as a complex and highly improvised surface of interlocking masonry, with every bay bearing its own unique arrangement of stones.